Defend Yourself Against Any Attack With Tier One Krav Maga Training
Did you know you can combine one of the world's most efficient and effective self-defense systems with a high-level total body workout that will help you see real results fast?
Well, that's exactly what we're bringing you at Tier One Training Center in Evanston. Our Krav Maga classes are a great way for men and women ages 15 and up to prepare for real-world threats and learn how to keep themselves safe while also pushing themselves with constant motivation and a practical strength building system.
As an Official Training Center of Krav Maga Worldwide, you can be sure you'll get the highest quality training with us right here in Evanston!
Krav Maga Training Is About Being Prepared Anywhere, Anytime
Originally adopted as the defense strategy for the Israeli Special Forces, Krav Maga has spread quickly around the world and today serves as one of the best ways for ordinary citizens to defend themselves from a threat or attack.
This discipline teaches you to be ready at a moment's notice to react to a threat and neutralize it as quickly as possible.
Our Krav Maga Training at Tier One Training Center will teach you how to:
Strike an attacker with power and speed
Disarm and subdue them before anyone can be harmed
Submit an attacker to keep everyone around you safe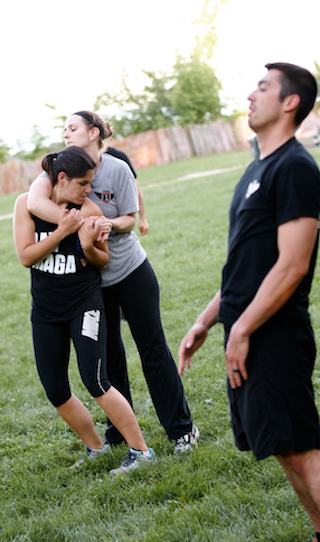 But It's Not All About The Fighting
Sure, we want you to know what to do at a moment's notice when danger crosses your path. But our Krav Maga classes in Evanston go way beyond the standard fighting techniques that this discipline offers.
Our Krav Maga students at Tier One Training Center enjoy workouts that are constantly changing and always challenging. You'll push yourself like never before with an out-of-the-box workout that generates real results.
You'll quickly enjoy:
Improved strength across your entire body
Boosted agility and speed
Increased awareness of your surroundings
And an unwavering sense of confidence in your abilities
Start Your Krav Maga Training In Evanston Today!
Don't wait until it's too late. Prepare your body and your mind for a real world threat today with our Krav Maga classes in Evanston. We are proud to offer you the highest quality instruction at Tier One Training Center and we're sure that you'll quickly enjoy gains like never before.
To get started, all you have to do is fill out the short form on your screen now. We'll reach out soon to answer all of your questions and get you all set up!